Bethlehem, the birthplace of Christ, pilgrimage destination for those seeking spiritual connection and… street art sensations? That's right, the anonymous British street artist graced this town with several murals back in 2007. I actually had no idea there was graffiti by Banksy in Bethlehem until I was already on my way there. Shortly after booking a Christmas Eve tour of the city, I started to look for things to do between the end of the tour and Midnight Mass. This led me to Banksy's Walled Off Hotel and the related collection of his works in the area.
I read some blogs which purported to show the exact locations of the murals, but found them to be hard to follow at best, and completely inaccurate at worst. This inspired me to write this post and include Street View imagery so you can easily find and see the artwork for yourself! Of course, nothing can compare to the thrill of wandering around Bethlehem, looking for graffiti that may or may not be there, in almost complete darkness at 11PM by yourself…
Here's how to find four of the best-known works of art by Banksy in Bethlehem.

Getting There
Firstly: how to get there. Traveling to Bethlehem from Jerusalem is safe and easy for tourists. Bring your passport and comfortable shoes, because it's a hilly area and we're going to be doing a lot of walking! Take Bus 231 (formerly 21) to Beit Jala from outside Damascus Gate – it takes you directly into the middle of Bethlehem.
For details, check out the WikiTravel page for Bethlehem. The trip takes anywhere from 30 minutes to an hour, and costs 6.80ILS. Once there, you'll probably be accosted by various cabbies offering to drive you to see all the Banksy art, or to the Church of the Nativity. Up to you whether you want to walk, or take a taxi.
Girl Frisking Soldier
First, you'll want to head north on Hebron Road until you're a little ways past the Bethlehem Museum. Right next to the Saint Michael Hotel is a "Banksy Shop". You see, someone built a "protective wall" aka storefront around the Girl Frisking Soldier, housing all sorts of Banksy-themed merchandise and souvenirs. Inside, you *might* be able to view the piece (if the store is open and you buy something).
This is what the piece looked like before the shop was built – complete with an Israeli soldier running past:
The shop has no affiliation with Banksy whatsoever, and based on other bloggers' experiences is simply a local looking to cash in on some famous art. Since it was nighttime when I went, the shop was locked up and the mural inaccessible. It's best to plan ahead and go during the day if this one's high on your list.
GPS Coordinates: 31°42'57.8″N 35°12'05.7″E
Street View: https://goo.gl/maps/EiKZCVNdh1H2
Armoured Dove
In order to get to the next piece, make a quick turn from Hebron Rd onto Manger St to get to the Palestinian Heritage Center. On the side of the building is a giant white dove, carrying an olive branch in hopes of peace, yet clad in a bulletproof vest to deal with the reality of war. The target on its chest implies somebody has the dove in their sights, and that its fate is sealed.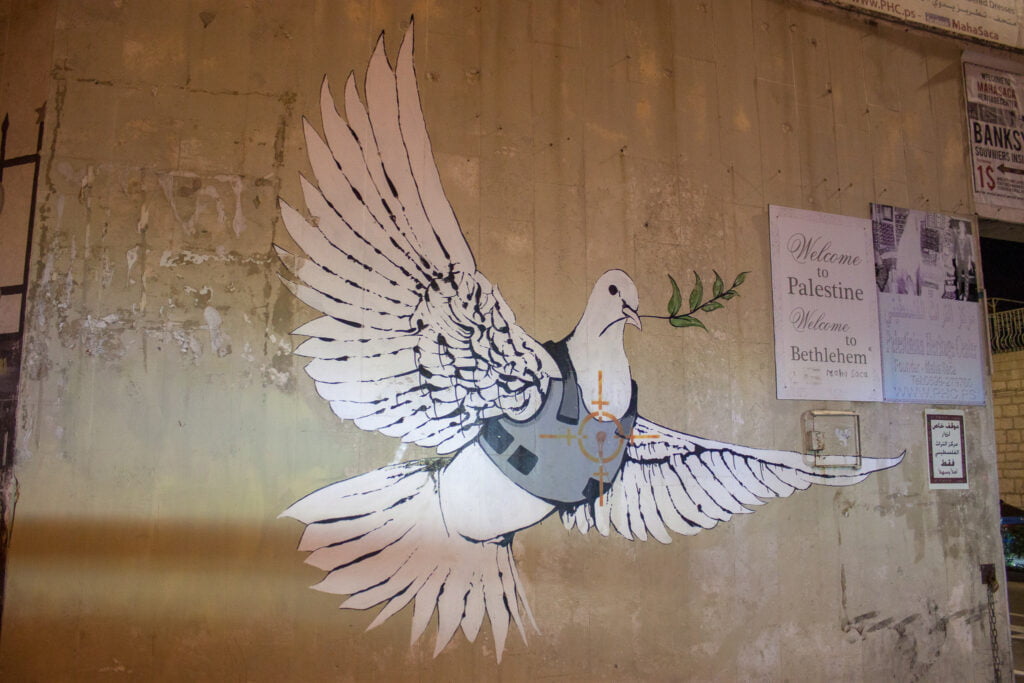 This is my second favourite piece by Banksy in Bethlehem. You can't miss it, and while I took photos, a police car pulled up with its lights flashing brightly. This added a striking dimension to the piece, highlighting the never-ending conflict in the area.
GPS Coordinates: 31°43'03.1″N 35°12'08.6″E
Street View: https://goo.gl/maps/k9TSYEoFAj72
(Optional) Walled Off Hotel
At this point, you're just down the street from the Walled Off Hotel, which Banksy opened in 2017. This is one of the only places actually designed, financed by and affiliated with Banksy in Bethlehem. It's a great place to visit to learn about the Palestinian struggle via the museum (15ILS). The restaurant is also nice, with a small selection of dishes (pizza, salad, hummus) with a great ambiance and decor courtesy of Banksy.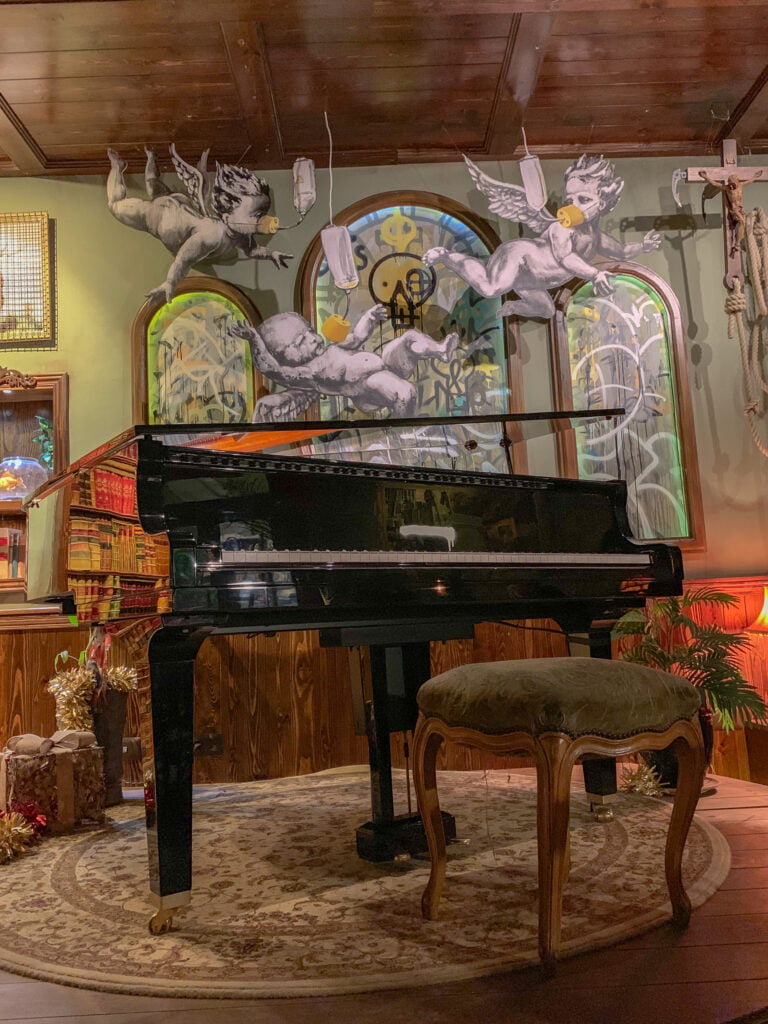 I also suggest you visit on your way back, after 7pm. A remote controlled mechanical baby grand piano plays a pre-programmed concert each night. Order a drink, sit back, enjoy the music and appreciate the fact that life has been extremely kind to you in comparison to others…
Angel Sprinkling Hearts
Did you remember to wear your comfy shoes? Great! Because it's a bit of a trek to the next location. Luckily, it's mostly downhill. Head all the way along Manger Street (or Derech S.O.S. – up to you!) and then a bit further along Beit Sahour Road. You will see the Ararat Hotel on your left. The Angel is on the right side of the road just before the hotel.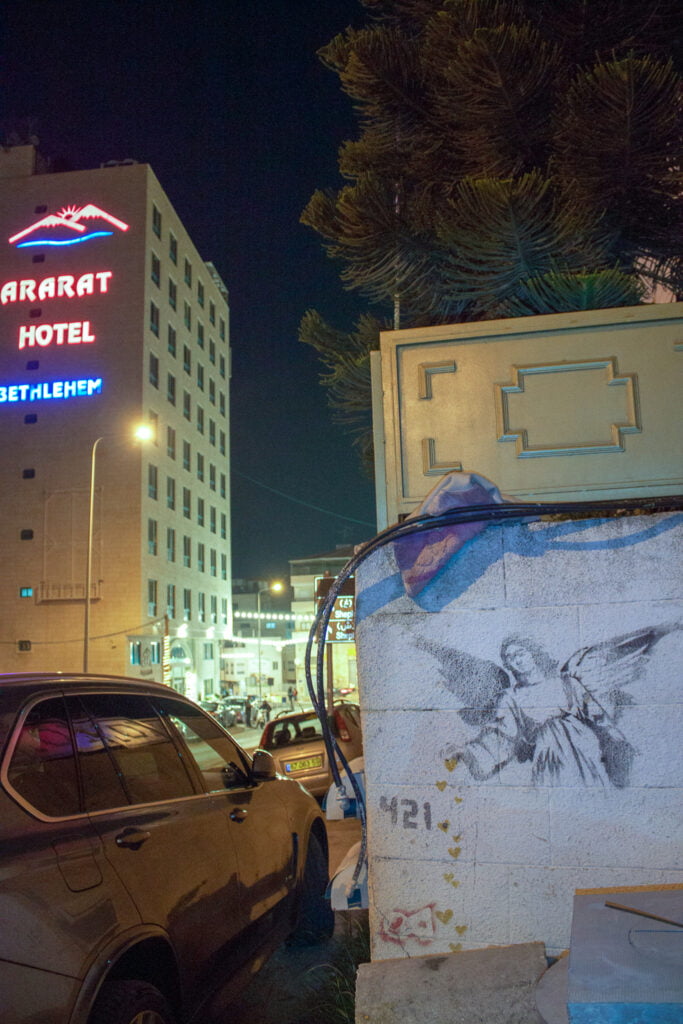 Apparently, the jury is still out on whether this is a Banksy, but it's on the way to the Flower Thrower and a cool piece of graffiti either way. I'm curious to know what the '421' means.
GPS Coordinates: 31°42'16.4″N 35°12'49.4″E
Street View: https://goo.gl/maps/pecBC1bUUTz
Man Throwing Flowers
Finally, we can make our way to the Flower Thrower. At this point, I felt dead tired (it's 11:30pm after a long day of sightseeing, crowds, and little food – which started at 6am). I also dreaded the uphill walk all the way back to Manger Square for Midnight Mass, which I doubted I could even make in time for midnight. So, I hailed a cab and negotiated a fare of 14ILS to take me to the mural, and then back into the city.
Banksy painted his piece-de-resistance (at least in my opinion) on the side of a local garage. While my cabbie waited, I got out and walked around to the side of the building. There it was: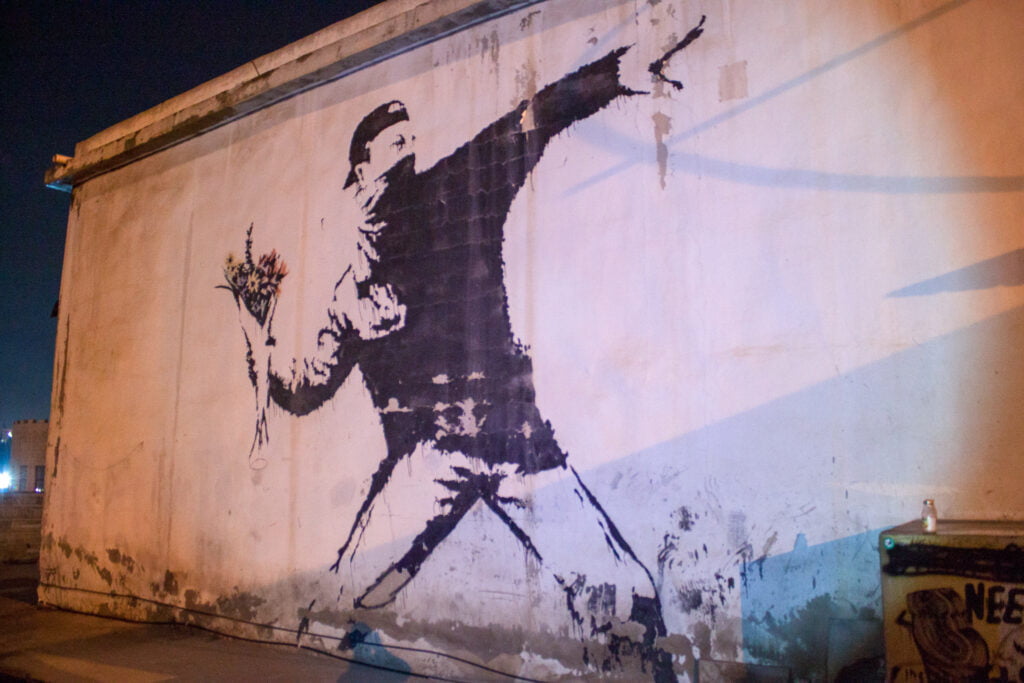 I enjoyed reading the accounts of others who had visited the garage where Banksy painted the mural. The owner and workers are apparently very friendly, and take pride in Banksy choosing their garage as the location for an iconic image.
GPS Coordinates: 31°42'15.1″N 35°13'41.9″E
Street View: https://goo.gl/maps/f5u7rutqR3M2
That's it! Now make your way back and be sure to take in some of the other satirical, poignant, and politically charged art that litters the Separation Wall.
More Banksy in Bethlehem?
I'm told that a few more pieces have popped up by Banksy in Bethlehem since 2017. I visited in December 2018 and wasn't aware – comment below if you know where they are, and happy exploring!